Ausstellungen (Auswahl) | Exhibitions (selection):
ART MEETS RADICAL OPENNESS, Linz/Austria
XcoaX – conference on Computation, Communication, Aesthetics and X, Porto/Portugal
27th STUTTGARTER FILMWINTER, Stuttgart/Germany
NEMAF – New Mediaart Festival, Seoul/Korea
SIGGRAPH ASIA, Hong Kong/China
Passwords: * * * * * * (2014)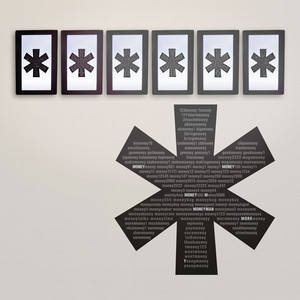 6-Kanal Videoinstallation

Die Installation "Passwords: ******" enthüllt die von Internetbetrügern meistverwendeten E-Mail-Passwörter. Die Passwörter sind typographisch in sechs Sternen arrangiert, jeder Stern zeigt die populärsten Wortkombinationen der Wörter: "good" (gut), "love" (Liebe), "money" (Geld), "mother" (Mutter), "Jesus" und "bless" (segnen). E-Mail-Dienste wie Google Mail, Yahoo Mail oder Outlook werden von Betrügern verwendet um falsche Identitäten zu kreieren. Mit diesen Identitäten und fiktionalen Erzählungen werden potentielle Opfer kontaktiert und dazu angehalten, Vorauszahlungen an die Betrüger zu leisten. Mitglieder von Internet-Bürgerwehren versuchen, den Betrügern das Handwerk zu legen. Sie verwenden Social-Engineering-Techniken, psychologische Manipulation und Narration um das Vertrauen der Betrüger zu gewinnen. Sie sammeln und kombinieren anscheinend irrelevante Informationen und schaffen es dadurch, an sensible Daten wie z.B. E-Mail-Passwörter heranzukommen. Sobald der Zugang zu einem E-Mail-Postfach gelungen ist, werden potentielle Opfer gewarnt und sensible Daten wie gefälschte Dokumente, Kreditkartennummern oder die Kommunikation mit anderen Gangmitgliedern sichergestellt. Die im Werk verwendeten Passwörter stammen von einer Internet-Bürgerwehr-Datenbank.
Audiokommentar
6-channel videoinstallation

'Passwords: ******' reveals the most popular email passwords of internet scammers. The passwords are arranged typographically in six asterisks, each containing the most popular word combinations with the words: 'good', 'love', 'money', 'mother', 'Jesus', and 'bless'. Email services like Gmail, Yahoo Mail or Outlook are used by scammers to create fake identities which then are combined with a fictional narrative in order to contact potential victims to get them to make up-front payments. Vigilante anti-scam groups are trying to stall scammers by applying social engineering tactics, psychological manipulation and narration to gain their trust. They collect and combine seemingly irrelevant information which enables them to get hold of sensitive data like email passwords for example. Once they have managed to hijack such an email account, they warn potential victims and safeguard sensitive data like forged documents, credit card numbers, or the communication between gang members. The passwords in the artwork were collected from an anti-scam group database.