Maria Petschnig
*1977
Ausstellungen (Auswahl) | Exhibitions (selection):
2014 Diagonale Graz
2013 Petschnigs', On Stellar Rays, NY
2013 Porko, IMO Projects, Kopenhagen, Denmark
2013 The Trouble Between Us, Occidental College, Los Angeles
2013 Hair and Skin, Derek Eller Gallery, NY
The Rooms (2014)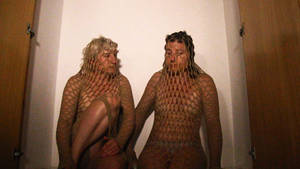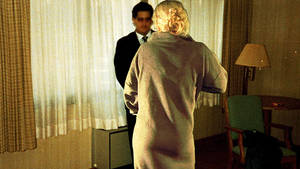 4 videos, sound, mixed media installation

Petschnigs Videos, Performances und Installationen befassen sich mit Phantasie, Voyeurismus, Privatheit und Erinnerung. Ziel der Arbeit ist es, den/die BetrachterIn mit scheinbar Vertrautem zu locken, um dann neue Querverbindungen herzustellen, abrupt den Blickwinkel zu wechseln und sie/ ihn - sämtlicher Gewissheiten entledigt - zu entlassen. Die Basis: regelmäßig privat abgehaltene Performances (allein zu Hause, ohne Publikum) vereinen jeweils unterschiedliche psychologische Szenarien mit alltäglichen Gesten und verschiedenen Personae. Dabei kommen absurde sowie verstörende Elemente zutage. Die Künstlerin konstruiert den Blick, der jener eines Perversen sein könnte und den sie dem Publikum überstülpt.
Die sorgfältig durchdachten Installationen verweigern sich einem passiven und gesicherten Betrachten ohne dabei in einen Gestus des Entlarvens zu verfallen. Es geht weniger darum, die uns allen innewohnenden voyeuristischen Neigungen anzuprangern, als diese zunächst einmal ins Bewusstsein zu heben und damit einer kritischen Reflexion überhaupt erst zugänglich zu machen. "The Rooms", eine eigens konzipierte Mixed Media Rauminstallation, vereint vier von Petschnigs Videos (2007 - 2013).

Audiokommentar
4 videos, sound, mixed media installation

Petschnig's videos, performances and installations deal with fantasy, voyeurism, privacy and memory. The artwork strives to captivate the viewer with seemingly familiar images. In doing so it tries to offer new links and changes views abruptly, only to release the audience without any remaining certainty. In regularly staged private performances – staged at home, without an audience – the artist emulates various psychological scenarios and combines them with mundane gestures in order to arrive at an absurd, closed, unsettling space. Petschnig plays with a gaze that, however discomfortingly, aligns what the beholder sees with what the pervert seeks out. 'The Rooms' brings together four videos (made between 2007 and 2013), presented inside a carefully constructed installation, conceived with the intention of denying the viewer the privilege of comfortable or passive observation, thus further heightening the audience's awareness of their voyeuristic inclinations.