Niki Passath
*1977

Ausstellungen (Auswahl) | Exhibitions (selection):
2013 5th Moscow Biennale – Special Project – 'Bits to Pieces'
2013 'Artists in Multifunctions', Lalit Tikri Akademi, New Delhi, India
2012 'Robots and Avatars', Maribor, Slovenia
2012 'abstraction contraption', The Edge, State Library of Queensland, Brisbane, Australia
2010 'Roboterträume', Kunsthaus Graz, Austria; Museum Tinguely, Basel, Switzerland
Intimacy (2012)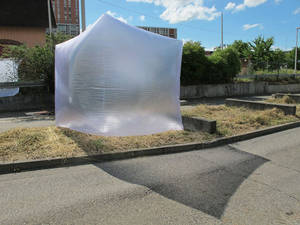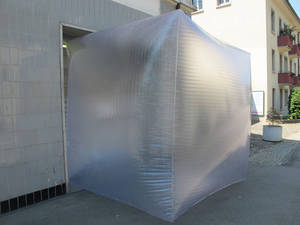 PVC, lichtdurchlässig strukturiert, luftgeformt, variables Volumen ~17m³, Größe:~260cm x 260cm x 260cm

Dieses würfelförmige Objekt eignet sich Raum an. Das Material ist durchscheinend aber nicht durchsichtig, wodurch ein intimer, privater Rückzugsraum geschaffen wird. Bei Nacht beleuchtet eine Fernsehsignalsimulation das Objekt von innen, denselben Eindruck erzeugend, welchen man beim Flanieren in den Städten bei Nacht bekommt, wenn man ein durch einen Fernseher beleuchtetes Fenster sieht und dadurch glaubt, dass sich hinter der Fassade des Gebäudes ein Mensch befindet. Es scheint, als könnte man in das Objekt hineinsehen, aber man sieht nur verschwommene Schatten des dahinter Liegenden. Da das Objekt luftgeformt ist, ist eine korrekte Würfelform nicht möglich. Es scheint sogar, als würde das Objekt zur Form der Kugel drängen. Diese Mischform aus Künstlichem und Organischem, zusammen mit der Lichtdurchlässigkeit der Hülle, verändert die Wirkung des Körpers abhängig vom Ort, an dem er aufgestellt wird, sei es in der Natur, im Stadtraum, außen oder innen.
Audiokommentar
PVC, translucent structured, air-shaped, variable volume ~17m³,
Size: ~260cm x 260cm x 260cm

This cube-like object occupies space. The material is translucent but not transparent, creating an intimate and private retreat area. At night the cube is illuminated by an imitation of television signals simulating the visibility of private spaces in the cities at night through the windows, visible from the streets. It seems as if you were able to see through the surface, but because of the object's structure it is only possible to see the indistinct shadows of what is behind the casing. The object is shaped by air, making it impossible to create an accurate cube. It seems that the higher pressure inside the cuboid creates a hybrid and the cube is almost urging to become a sphere. This hybrid, half-organic shape in combination with the translucent material of the casing changes the impression you get from the object depending on where it is located – in the countryside or in the city, inside or outside.