Julie Nymann
*1987
Ausstellungen (Auswahl) | Exhibitions (selection):
Boston Museum of Science, A Song for Echo, curated Alexis Avedisian, Boston
UpNo Mans Art Gallery, curated Emmelie Koster, Cape Town
Steal This Bike, Curated By Chanel Kim, MINT Gallery, Atlanta
Licht Feld Biennale 13, curated Friedrich Hadorn, Licht Feld Gallery, Basel
D'Clinic Gallery, PEOPLE THAT IS DOING THIS, collaboration with Alessandra Hosho, Lendava
Kys | kyss (2012)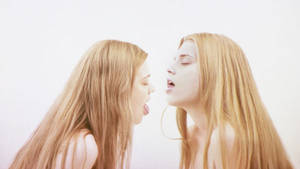 16x9HD, stumm, 2,58 min loop

Was wäre, wenn wir uns selbst wie eine/n andere/n wahrnehmen könnten? Würden wir uns mögen? Ausgehend vom Mythos des Narziss präsentiert dieses Video ein Stück mit zwei identischen Figuren bei einem intimen Akt: Anziehung und Abstoßung.
Audiokommentar
16x9HD, silent, 2,58 min loop

What if we were able to see ourselves as the other? Would we like what we saw? Inspired by the myth of Narcissus, the video portrays a theatre of two identical figures