Tavi Meraud
*1986
Ausstellungen (Auswahl) | Exhibitions (selection):
February 2014: The Aesthetics of Information, Group Show, Princeton NJ
April 2014: the epistemicotranscendental reduplication: a story of words and things about loss and retrieval, Installation and Performance, New Haven, CT
img_prn (2013)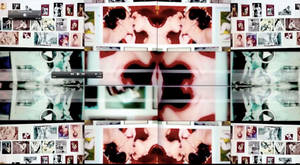 Single channel video

Das Werk ist Teil einer fortlaufenden Serie von Videos und Installationen über Bildschirmwelten, Orte, die sowohl am Bildschirm als auch – in beide Richtungen - darüber hinaus existieren. Da ist einerseits die "virtuelle" Realität, jene Welt zu der der Bildschirm lediglich ein Fenster darstellt und auf der anderen Seite unsere Alltagswelt, in der wir unsere Identität fortwährend verwandeln und verbreiten. Der Bildschirm wird dadurch zur konkreten Manifestation dieser ansonsten nicht greifbaren Vorgänge. Den Anstoß zu diesem speziellen Werk lieferte die Idee, nach pornografischen Bildern zu suchen, inspiriert durch die banale Erkenntnis, dass die Suche nach Pornos sinnbildlich für das Suchen allgemein steht. Bei der Porno-Suche geht es darum, den Suchvorgang ständig und gleichzeitig mit der Suche zu verfeinern und anzupassen. Es handelt sich also um die Suche par excellence. Das Ziel der Porno-Suche ist es, ein Ergebnis zu erhalten, das so präzise und spezifisch wie möglich ist und die pornografischen Annalen des Internets und darüber hinaus sind exakt so strukturiert um solche Ergebnisse zu ermöglichen. Die Intimität, die dieses Werk thematisiert, ist nicht die vordergründige Nähe, die die pornografischen Szenarien beinhalten sondern die Intimität, die hier verhandelt wird, findet vielmehr auf der strukturellen Ebene statt – die Nähe dieser Bildschirmwelt zu "unserer" Welt. Das In-Berührung-Kommen mit Pornoszenarien ist eine – wenn nicht die – Interaktion, die am dichtesten die Membran zwischen der realen Welt und der Bildschirmrealität anstreift. Die Bildschirmwelt verursacht reale Effekte in der anderen Welt. Die Entscheidungen, die bei der Herstellung der technischen Details der Arbeit getroffen wurden, waren sehr pragmatisch. Das ursprüngliche Vorhaben war, die Suche zu dokumentieren, daher die Entscheidung, Bildschirm-Captures zu verwenden; Aber ich wollte außerdem die Architektonik der Bildschirmwelt, die sich in diesem Fall entfaltet, thematisieren und deshalb entschied ich mich als Grundarchitektur für eine Quadrierung des quadratischen Bildschirms. Aber natürlich spielt durch diesen verwirrenden Exzess der Bilderzeugung die Materie mit den Grenzen der Vertrautheit und der unerwarteten Dichtheit der Bildschirmwelt, und unterstreicht die Bedenken hinsichtlich Diskretion (vgl. Inkognitosuche), Vertrautheit und Inbesitznahme/Vereinigung – mit einem Wort: Intimität.
Audiokommentar
Single channel video

This work is part of an ongoing series of video and installation pieces on screen worlds, places that exist on the screen as well as beyond it, in both directions. There is, on the one hand, 'virtual' reality, the world to which the screen is merely a window and, on the other hand, the everyday world in which we are constantly transforming and broadcasting our identities. The site of the screen, then, becomes a tangible manifestation of these otherwise often impalpable operations. The impetus for this specific piece was the idea of looking up pornographic images, inspired by the banal realization that the porn-search is emblematic of searching for in general. Searching for porn is about searching while constantly, simultaneously refining and adjusting the search. It is thus the search par excellence. The objective of the porn-search is to attain the most refined and specific experience, and the pornographic annals of the internet and beyond are structured precisely to suit these aims. The intimacy which this work addresses, is not the ostensible closeness implied by pornographic scenarios but rather the intimacy at stake here operates on the level of structure - the proximity of this screen world to 'our' world. The porn-scenario encounter is an - if not the - interaction that rubs the most against the membrane between the real reality and the screen reality. The screen world causes real effects in the other. The decisions that went into producing the physical details of this piece were quite pragmatic. The initialintent was to simply document the search, hence the decision to use screen captures;but I also wanted to address the architectonics of the screen world that emerges in this case and therefore the decision to insert a basic architecture of squaring the square screen. But, of course, by generating the dizzying excess of images, the content matter plays on the edge of familiarity and the unexpected thickness of the screen world, underscores the concern with desire, confidentiality (cf. incognito searches), familiarity and appropriation/incorporation - in a word: intimacy.