Korinna Lindinger + Anna Haber
Korinna Lindinger *1982
Anna Haber *1980
Ausstellungen (Auswahl) | Exhibitions (selection):
2014 'Mechanische Poesien' Galerie 5020, Salzburg (AT)
2014 'Klanghypothesen' Stadtgalerie, Salzburg (AT)
2013 'slctdby' Galerie Prawneg & Wolf, Bruneck (IT)
2012 'System Error' Timelab, Gent (BE)
2012 'Point Blank' Savamala, Belgrade (RS)
Schwellenobjekte / Gateway Objects (2011)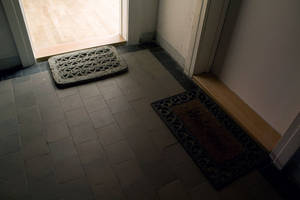 Installation

Auf dem Weg von der Straße ins eigene Wohnzimmer überquert man vielerlei Schwellen. An ihnen ändern sich VerfügerInnenrechte. Auf der Straße gelten Regeln des öffentlichen Raums, in Hof und Stiegenhaus auch die Hausordnung oder das, worauf sich die Hausgemeinschaft geeinigt hat. In der eigenen Wohnung kann man vieles selbst gestalten und verwalten. Schwellen werden aus praktischen, ästhetischen und emotionalen Gründen gestaltet. Oft sind es andelbare, bewegliche Objekte, die in ihrer Nutzung private Grenzen markieren. Schwellenobjekte" ist eine Serie betonierter Alltagsgegenstände. Im verhärteten Material manifestiert sich praktizierte Symbolik.
Audiokommentar
Installation

On our way from the street to our own living room, we pass many gateways. At these gateways, user rights change. Out on the street the rules of public spaces apply, in the courtyards and hallways the house rules or whatever the community has agreed upon apply, too. In our homes we can model and manage a lot of things ourselves. Gateways are created for practical as well as for esthetical and emotional reasons. They tend to be alterable, movable objects that in their usage denote private boundaries. 'Gateway Objects' is a series of concreted everyday items. The hardened material is a manifestation of racticed symbolism.