Carolin Liebl + Nikolas Schmid-Pfähler
Carolin Liebl *1989
Nikolas Schmid-Pfähler *1987

Ausstellungen (Auswahl) | Exhibitions (selection):
GOGBOT Festival, Enschede (NL)
FILE Festival, Sao Paulo (BR)
Toolkit Festival, Venice (IT)
WRO-Biennale, Wroclaw (PL)
EMAF, Osnabrück (D)
Vincent und Emily (2013)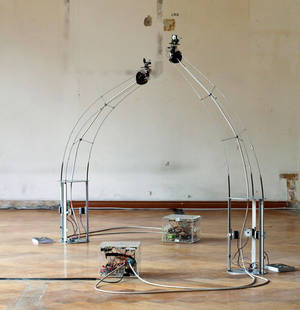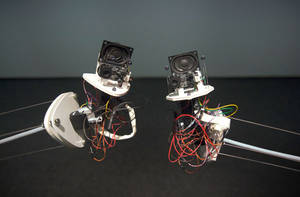 Kamera, Sensoren, Motoren, Arduino und Raspberry Pi

Liebe in Zeiten der Automation
Zwei eigenwillige Roboter stehen in einem bizarren Spannungsfeld zueinander und zu ihrer Umgebung. "Vincent und Emily" zeigen dem Betrachter die Abgeschiedenheit einer Paarbeziehung mit ihren ganz eigenen Spielregeln und gleichzeitig die Eingebundenheit in die Gesellschaft und deren Impulse. Die beiden Roboter sind bei ihrer Kommunikation auf visuelle und akustische Signale angewiesen: sie erfassen über eine Kamera und ein Mikrofon Bewegungen und Geräusche ihres Partners sowie ihrer Umwelt und reagieren darauf durch eigene Äußerungen. Wie auch in jeder menschlichen Beziehung kommt es dabei zu Missverständnissen: Sendet Vincent positive Signale durch Auf-und-ab-Bewegungen interpretiert Emily möglicherweise gerade diese als negativ. Streit ist hier vorprogrammiert. Die sich aus diesem Spannungsverhältnis ergebenden unvorhersehbaren Wechselwirkungen und Interaktionen zwischen Vincent und Emily lösen bei den Betrachtern eigene Projektionen aus, man sucht intuitiv nach Analogien zu menschlichen Verhaltensmustern.
Audiokommentar
Camera, sensors, motors, Arduino, and Raspberry Pi

Love in times of automation
The relationship two headstrong robots have with each other and with their surroundings is an area of conflict. 'Vincent and Emily' shows the viewer the remoteness of a partner relationship with its unique rules and also its embeddedness in society and society's impetus. In their communication, the two robots depend on visual and acoustic signals: they register each others' nd the movements and sounds of their surroundings through a camera and a icrophone and react to them with their own expressions. Just like in all human relationships, there are misunderstandings: when Vincent is sending positive signals by moving up and down, Emily may possibly misinterpret those same moves as negative. Conflict is inevitable here. Vincent and Emily's unpredictable interdependencies and interactions arising out of this conflict area trigger their own projections in the minds of the viewers, they intuitively search for analogies to human patterns of behaviour.