Susanna Hertrich
*1973
Ausstellungen (Auswahl) | Exhibitions (selection):
2013 Fail Again. Souterrain Galerie, Berlin
2013 O'clock. CAFA Art Museum, Beijing
2013 Look Twice. Digital Sensuality and Spaces of Tomorrow. Alte Kongresshalle, Munich
2012 Revolve. EMAF European Media Arts Festival, Kunsthalle Dominikanerkirche, Osnabrück
2011 Architecture of Fear. Z33 – House for Contemporary Art, Hasselt
Prostheses for Instincts (2008 – 2010)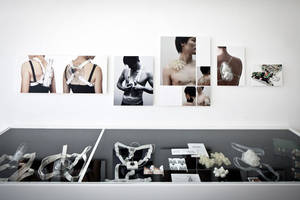 Sinneserweiternde Geräte, Mixed media

"Prostheses for Instincts" positioniert sich zwischen künstlerischer Hypothese und wissenschaftlichem Experiment. Das Projekt beleuchtet die Idee des "prothetischen Hilfsmittels", das als technologische und emotionale Prothese den Menschen ergänzen soll.
Die spekulativen Geräte, die aus dieser Arbeit entstanden sind, sind direkt auf der Haut zu tragen. Sie sind mit Datenströmen verlinkt, die mit potentiellen Gefahren verknüpft sind, z. B. Börsenkursen, Umweltkatastrophen oder der lokalen Verbrechensrate. Wird eine Veränderung der registrierten Daten festgestellt, springen die Geräte an und erzeugen haptische, instinktgleiche Reaktionen: aufgestellte Nackenhaare, kalte Schauer, Gänsehaut etc. "Prostheses for Instincts" hat zumZiel, den Menschen so zu ergänzen, dass er Daten fühlen kann und somit einen neuen Sinn zur Wahrnehmung der abstrakten Gefahren bekommt, die außerhalb seines natürlichen Wahrnehmungsbereiches liegen.
Audiokommentar
Extrasensorial devices, mixed media

'Prostheses for Instincts' is a project situated between artistic hypotheses and scientific experiment. The project explores the notion of the 'prosthetic device' acting as a technological and emotional extension of the human body. The peculative devices envisioned in this work are to be worn directly on the skin. They are connected to real time data that is related to a potential threat, e.g. tock market data, natural disasters or local crime rates. When a change of ncoming data is registered, the devices automatically jump into action creating aptic sensations similar to those caused by natural instincts: raised neck hair, old shivers, goosebumps etc. 'Prostheses for Instincts' wants to enable people o feel data and to obtain a new sense for the abstract and deferred dangers that occur outside their natural scope of perception.