Juliana Herrero
*1975

Ausstellungen (Auswahl) | Exhibitions (selection):
Kaleidoskop 2014, Maison de l'Argentine, Cité
Internationale Universitaire, Paris
Kunstzelle WUK, Vienna 2014
studios das weisse haus exhibition, Vienna 2013
studios das weisse haus Open doors Day 22.11.2013 in context of the Vienna Art Week
Kaleidoskop 2012, Atelier Frankfurt, Frankfurt am Main
Milieu (2014)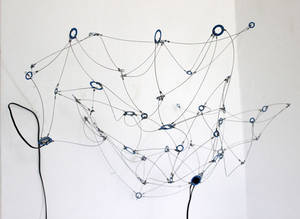 Medieninstallation

"Milieu" erzeugt einen ätherischen Raum der Simultaneität, in dem sich der private und der öffentliche Bereich vermischen wodurch die Infiltration des menschlichen Lebens mit der virtuellen Welt in Frage gestellt wird. Persönliche Erkenntnisse und öffentliche Krisen von sozialen Strukturen werden im Fluss der zeitgenössischen Kommunikation, insbesondere in den Social Networks im Internet, dargestellt. Diese osmotische und durchlässige "Materie", die von elektronischen und kabellosen Artefakten verbreitet wird, bewegt sich auf unterschiedlichen Frequenzen um uns herum. Das Werk kommentiert die Dichte dieses unsichtbaren Verkehrs indem es ununterbrochen Nachrichten auffängt und diese wiedergibt. Die Struktur des umfassenden ätherischen Netzwerks folgt dem Konzept und den Diagrammen von "distributed networks", wie vom Techniker Paul Baran in den 1960er Jahren beschrieben. Die Sendeumgebung stellt eine Klangcollage dar, in der die Narrative, die aus den Social Networks im Internet entstammen, einander zufällig überlappen. Als eine Verkörperung von "virtuellen Wesen" flüstert sie intime Nachrichten und Neuigkeiten. Die aschinenstimmen versuchen, die Originaldaten zu dekonstruieren und in eine eue, fiktionale Realität hinein zu erweitern.
Media installation

'Milieu' creates an ethereal space of simultaneity were private and public realms are merged, questioning the infiltration of the virtual world in human life. Personal insights and public crises of social structures are depicted in the aily flow of nowadays communications, specifically in internet social networks. This osmotic and permeable 'matter' that expands from electronic and wireless artefacts is travelling at different frequencies around us. The artwork comments on the density of this invisible traffic reflecting messages captured 'wall to wall'. The immersive ethereal network structures follow the concept and diagrams of 'distributed networks' suggested by engineer Paul Baran in the 1960s. The emitter environment displays a sound collage, in which narratives originating in the internet social networks are randomly overlapping. The collage, an embodiment of 'virtual creatures', whispers intimate messages and news. The machine voices attempt to deconstruct the original data expanding it into a new fictional reality.
audio commentary