Michael Heindl
* 1988

Ausstellungen (Auswahl) | Exhibitions (selection):
'Artprice Junge Kunst 2014', Kunstverein Passau, Passau
'Weather Report', Das Weisse Haus, Vienna (solo)
'London/Vienna/Calling', Mile End Artpavillion, London
'Measures of saving the world, part 1', <rotor>, Graz / 'A7', Hafentor 7, Hamburg
The Same Old Story (2012)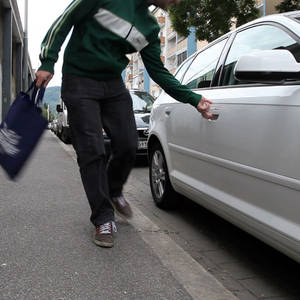 Intervention, Video

Die Ängste und Bedenken, die im Zusammenhang mit dem eigenen Automobil existieren, sind im Wesentlichen dadurch bedingt, dass das Fahrzeug Teil des privaten Raumes ist. Der Parkplatz ist jener Unort im öffentlichen Raum, an dem dieses als mobiler privater Raum sich selbst überlassen wird und so sämtlichen Risiken ausgesetzt ist.
Für das Projekt "The Same Old Story" habe ich ein eigenes verstörendes Erlebnis mit meinem KfZ zum Ausgangspunkt einer Arbeit gemacht. Mit dem Ziel, das Geschehene aufzuarbeiten, suchte ich nach passenden Situationen um meine Geschichte mitzuteilen. Ich fand diese in unabgesperrten, parkenden Fahrzeugen im Stadtgebiet von Graz. Dort legte ich CDs in die CD-Player ein, auf denen mein eigenes aufgezeichnetes Notrufgespräch mit der ungarischen Polizei als Träger meiner Erzählung in Endlosschleife zu hören war. Dann schaltete ich die jeweiligen Radios ein und ließ die Autos so zurück. So entstanden für eine gewisse Zeit befremdliche Soundinstallationen an unterschiedlichen Orten der Stadt.
Audiokommentar
Intervention, video

The fears and concerns we have with regard to our cars are rooted mainly in the fact that the vehicle is regarded as part of our private space. The parking lot is the non-space in the public sphere where we leave our mobile private space behind and put it at all kinds of risk.
The project 'The Same Old Story' was inspired by an unsettling experience I had with my car. To come to terms with my experience, I was looking for suitable situations to tell my story and found them in unlocked parking cars in the city center of Graz. Into the cars' CD players I inserted CDs as the medium of my story with a recording of my emergency call to the Hungarian police on them in an endless loop. Then I switched them on and left the cars like that. In this way, I created disturbing sound installations for a certain amount of time in various places of the city.