Marlene Haring
*1987
Ausstellungen (Auswahl) | Exhibitions (selection):
2014 ... all silent but for the buzzing ..., Royal College of Art Galleries, London
2013 7 Ways to Overcome the Closed Circuit, Künstlerhaus Bremen
2013 Addendum (On The Shortness Of Life), Red Gallery, London
2013 Equals, Blankspace, Manchester
2013 10 Jahre Lentos, Die Sammlungsausstellung zum Jubiläum, Lentos Kunstmuseum, Linz
Photoboothautograph (2009)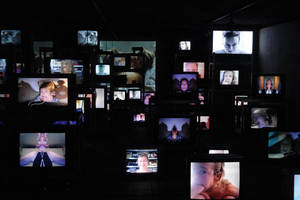 38 Zweibild Videoloops, 38 Monitore und Projektoren, variable Größe

Der Photoboothautograph wurde 1865 von Felicitas Zopp erfunden. Seine spezielle Technik und die außergewöhnlichen Anwendungsmöglichkeiten wurden schnell erkannt, und so wurde noch im selben Jahr ein Patent angemeldet. 1866 war ein Photoboothautograph für kurze Zeit als Attraktion im Wiener Prater zu sehen, bevor die neue Technologie zum Staatsgeheimnis erklärt wurde, und er damit verschwand und in Vergessenheit geriet. 2009 wurde der Photoboothautograph mit seinen einzigartigen Applikationen zur Vervielfältigung, Replikation und Selbstzerstückelung im österreichischen Staatsarchiv wiederentdeckt und auf den neuesten Stand der digitalen Technik gebracht. Ein neuer Prototyp wurde von Marlene Haring getestet und der Öffentlichkeit vorgestellt.
Audiokommentar
38 two-image video-loops, 38 monitors and projectors, variable dimensions

Invented 1865 by Felicitas Zopp, the innovative technology and astonishing capability of the Photoboothautograph were quickly recognised. A patent was granted the same year. For a short period in 1866 a Photoboothautograph was installed as an attraction in the famous Vienna Prater fair grounds. But shortly afterward the technology was declared a state secret and thus fell into oblivion. In 2009, the Photoboothautograph and its unique potential for replication, repetition and self-fragmentation was rediscovered in the Austrian State Archive and updated using the latest digital technology. A new prototype was tested and presented to the public by Marlene Haring.