Jos Diegel
Ausstellungen (Auswahl) | Exhibitions (selection):
Das ist ein positives Projekt [This is a Positive Project], solo exhibition, Galerie Söffing, Frankfurt, Germany
Transform New York, group exhibition, Lodge Gallery, New York, USA
Montez im Exil - Ende einer Wanderausstellung [Montez in Exile – End of a Travelling Exhibition], group exhibition, Kunstverein Familie Montez, Frankfurt, Germany
Alptraum [Nightmare], group exhibition, UGM Maribor Art Gallery, Maribor, Slovenia
Return, group exhibition, Kunstraum Pro Arte, Hallein, Austria
Jos Diegel & Lisa Schröter: There is no/a sexual report -entity, identity and the construction of a relational San Francisco (2013)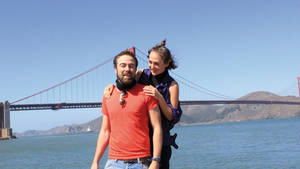 Originäre Performance präsentiert als Video Installation

Der Text des französischen Philosophen Jean-Luc Nancy mit dem Titel. "Es gibt – Geschlechtsverkehr", "L' 'iI Y a' du rapport sexuel", meint eigentlich das Gegebene, das "Ex-sistieren" in der sexuellen Beziehung und bezieht sich auf das von Jaques Lacan häufig verwendete "Il n'y a pas de rapport sexuel". So gäbe es keine eigentliche Beziehung zwischen dem, was man im vollen Sinne Mann und in ebenso vollem Sinne Frau nennen würde, kein wirklich sag- und beschreibbares Verhältnis zwischen den Geschlechtern. Und man könnte die Kluft zwischen Geschlechtsverkehr, den es gibt und dem Geschlechterverhältnis, das es nicht gibt, überwinden - insbesondere die Kluft des Verhältnisses der Geschlechter muss man hinzufügen. Aber einen Raum der Intimität, nicht-existent, das wäre ein Raum für die Kommunikation der Körper, sozusagen etwas wie ein Exil des Imaginären. Ein Verhältnis entwickelt sich dort, wo das Unbewusste reagiert, aber es darf nicht schon einen Sinn haben, eine gerichtete vorgefasste Botschaft, sondern nichts anderes als ein linguistischer Kristall, topologische Sprechblasen, akustische Bilder sein. Das ist ein Verhältnis, ein eigenständiges Wesen, das sich erst im Rahmen der Beziehung, ja der Performance von Beziehung, herausstellt.
Vom 1.-6. Oktober 2013 konstruierten Lisa Schröter und Jos Diegel das intime Szenario einer sechstägigen Beziehung in San Francisco mündend in die "Arse Elektronika - monochrom's Conference on Sex and Technology" um folglich den privaten Moment in eine öffentliche Sphäre als öffentliche Präsentation zu überführen.
Seit ihrem ersten kurzen Wortwechsel im Mai in Zürich und einigen wenigen E-Mails kann außer einem neuerlichen Treffen in Wasserburg am Bodensee im September von keiner weiteren Beziehung der beiden Protagonisten berichtet werden. So sollte in San Francisco eine solche entstehen, eine Situation für Geschlechtsverkehr und ein mögliches Geschlechterverhältnis, die Konstruktion
einer Situation, einem "rapport sexuel", für einen Bericht des Verhältnisses eines Verhältnis- und Beziehungsexperiments. Das Projekt bewegt sich zwischen paradoxer medialer Parodie einer intimen und pornografischen Offenbarung und der Dekonstruktion hoher Werte sexueller Identität.
Audiokommentar
Original performance presented as a video installation

The text of the French philosopher Jean-Luc Nancy titled 'L' 'iI Y a' du rapport sexuel', 'There is – sexual intercourse' actually indicates the given, the 'Ex-sisting' in a sexual relationship and refers to the phrase 'Il n'y a pas de rapport sexuel' often used by Jaques Lacan. Accordingly, there is supposedly no relationship between what one would call 'man' in the completely literal sense and 'woman' also in the completely literal sense, no really nameable and describable relationship between the sexes. And one could vanquish the divide between sexual intercourse which exists and the relationship between the sexes which does not exist – especially the divide between gender relations one has to add. But a space of intimacy, non-existent, would be a space for the communication of the bodies, quasi something like an exile of the imaginary. A relationship develops where the subconscious reacts but it cannot yet have a purpose, a directed preconceived meaning, but needs to be a linguistic crystal, topological speech bubbles, acoustic images. This is a relationship, an independent being which becomes apparent only in the context of the relationship, even only in the performance of relationship.
From October 1 to 6, 2013, Lisa Schröter and Jos Diegel constructed the intimate scenario of a six day long relationship in San Francisco culminating in "Arse Elektronika - monochrom's Conference on Sex and Technology" to then convert the private moment into an open sphere as a public presentation.
Ever since there first exchange of words in Zurich, a small number of emails, and another meeting in Wasserburg at the Bodensee in September, there can hardly be talk of any further relationship between the two protagonists. Hence, a relationship was supposed to develop in San Francisco, a situation for sexual intercourse and a possible relationship between the sexes, the construction of a situation, a 'rapport sexuel', for a report on the affair of a connection and relationship experiment. The project ranges from paradox media parody of an intimate as well as pornographic disclosure to deconstruction of highly esteemed values of sexual identity.