Sat, 20.9.2014
20:00 | Hui Ye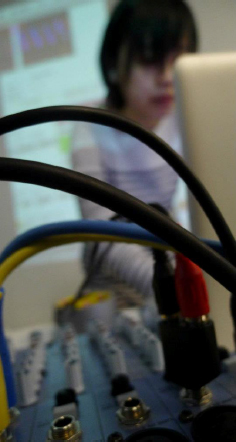 PIN: An eight-digit password which grants access to almost all the private internet accounts of the artist becomes the starting point of this live sound performance. The PIN code is used as the basic parameter in programming a polyphonic noise generator.
This transformation concept makes it possible to transform the intimacy of the social media age into useless acoustic information.
Hui Ye born in Canton, China;
2004‐2011 studies for a master's degree in composition and electro-acoustic composition at the University of Music and Performing Arts Vienna; 2007 Award of the Theodor Körner Foundation Austria; since 2010 studies for a master's degree in digital art at the University of Applied Arts; 2012 Scholarship of the BMUKK Austria; Among her works are numerous instrumental and electro-acoustical compositions, sound and video installations, as well as electro-acoustical, audio-visual productions.
Her works have been staged/shown at Carinthian Summer, Jeunesse Wien, Weltmusik Tage 2012 Flandern Belgien, Medienfestival 2012 Tübingen Germany, Moozak Festival Vienna, Wien modern, Klangmanifeste 2012/13, shut up and listen 2009, OCAT‐ OCT Comtemporary Art Terminal ShenZhen China, Palais Kabelwerk Vienna, Brut Konzerthaus, mediaopera Rinderhalle St. Marx, Tanzquartier Vienna, Das Weisse Haus Vienna, Tricky Woman 2014 Vienna.
www.yehui.org
21:00 | Blueblut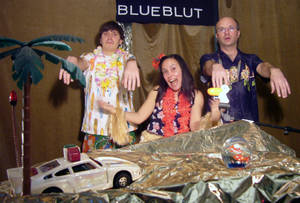 Pamelia Kurstin Theremin (voc, perc)
Chris Janka Git (voc, perc)
Mark Holub Drums (voc, perc)
A broken wind up children's toy, driving drums, theremin and distorted guitar crash together in this fun, mad-cap debut by three musical powerhouses.
A collection of first-time-ever-played-one-take tracks, improvs, and songs, the 'Hurts so gut' LP is the work of Chris Janka (guitar), Mark Holub (drums) and Pamelia Kurstin (theremin). Originally Blueblut formed for a one off concert at Porgy and Bess for the 'Vienna Room Service' festival in 2013, but the Vienna based three liked what they played so much that they decided to continue. By the end of the year, powered by crates of beer, curries and sweets and with open access to Chris's basement studio, a distinct sound and album had emerged.
About the individuals in Blueblut: Pamelia Kurstin is probably the most recognisable player of the theremin in the world today, being instrumental in the instrument's development, she is the go-to theremin player. Alongside her own compositions and releases she has performed with the likes of Yoko Ono and David Byrne. Mark Holub is best known as the animated Anglo-American drummer and bandleader of London based and Mercury Prize nominated Jazz-Rock outfit Led Bib. Holub recently decamped from London to set up home in Vienna. Flying machine maker, sound engineer, guitarist and automata creator Janka is a kind of Viennese Caractacus Potts figure with a basement studio to rival Peter Blake's. He also recorded, engineered and mastered the record.
The band:
http://www.blueblut.net
https://blueblut.bandcamp.com/
Mark:
http://markholub.tumblr.com/
Pamelia:
http://myspace.com/pameliakurstin
Chris: http://www.chrisjanka.at
Vinyl LP and Download: 'Hurts so gut'
Released: September 2014
European tour: 27. Oktober – 9. November 2014